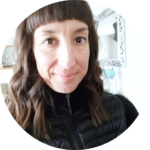 Some links are affiliate links meaning I make a bit of money if you make a purchase.
Reseller 📦 I Lift 🏋️‍♀️ Meat Eater 🥩 Journaler ✍ Dog Mom 🐕 Homesteader at 💙 Love Junk 🗑 Sticker Maker 🌸 Money Maker 💲

Referrals For Things I Use
Get UP to $30 when signing up for Mercari using my code: ZYSMAW
Sign up for YNAB using the link below, & you'll get a free month! I'll also get a free month!